Do you realise that this is the time when, more than ever, you need to make thoughtful choices about your tech-innovation strategies? It is the era of rapid digital evolution, impacting the consumer behaviour and customer expectations from business operations. Consumers are expecting greater speed, access to information, and automation, to name a few. So how are you planning to innovate at the next level to meet these expectations? If your innovation strategy doesn't include Voice, then you need to check out the following statistics:
Nearly 92.3% of smartphone users will adopt voice assistants by 2023, as forecasted by eMarketer.
In 2021, Voice search already accounts for over $2 billion worth of sales. (Web FX)
The global smart speaker market is likely to grow by 21% by the end of 2021. (Canalys, TechCrunch)
58% of people use voice search to find a local business online. (Forbes)
Voice-based shopping is predicted to be $40 billion by 2022.
As per GeoMarketing, 65% of Amazon Echo users or Google Home users have said they can't imagine travelling back to the days without a smart speaker.
Google states that 41% of people, who use voice-activated speakers, have admitted that it feels like talking to a friend or a person.
There are more than 1 million Actions or apps created using the voice technology of Google Assistant.
The crux of the matter is Voice is taking over; people are ditching their touchpads and keyboards when it comes to surfing the net, buying products, or accessing the range of on-demand app-based services. Be it for the comfort with the technology, the usability convenience, or improved experience, and consumers are shifting to voice-driven interfaces. But the big question is, are you ready to take the plunge and adapt to this new consumer behaviour? Have you started using voice technology to your advantage to connect with your customers in a better, faster, and smarter way?
Voice for Business – Why should you focus on it?
In today's business world, it's a must that you understand the importance of changing the core of your commerce in line with trends around consumer behaviour and technology innovations. The future belongs to Voice commerce. This next big thing is poised to grow from $2 billion in 2018 to $80 billion by 2023, forecasted by Juniper Research.
What does this mean to a business or a marketer? Just recall the days when you were headstrong about optimising your business website because that was the most efficient, quick, and scalable way of reaching out to more and more customers.
In the current times, Voice integration holds the same importance. Your website needs to be optimised for voice search for leveraging voice commerce; your service applications should be capable of delivering voice experiences or facilitate integration with voice assistants like Alexa and Google Home.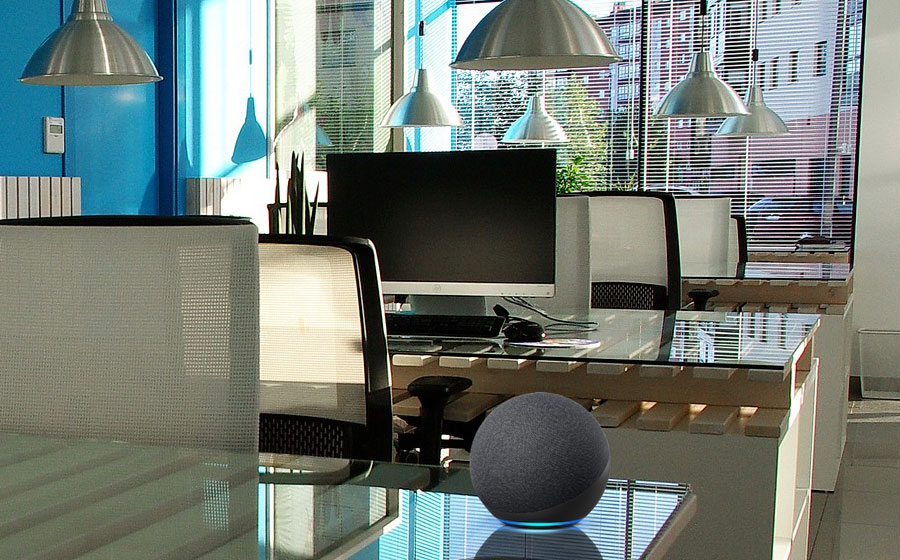 Corporate offices use Alexa for smart office and power voice CRMs. Meeting scheduling, reminders and calendar queries are a voice command away, keeping executives focused on their core business operations effectively with more productivity.
When you think of voice integration for your website or service apps, don't confine it to the idea of some chatbots. Voice for your business would mean many more things, for instance:
Creating engaging conversational experiences for your customers
Account linking with a voice assistant like Alexa for syncing with other Alexa accessories
Integration with third-party services
Performing transactions, preferably hands-free
Thus, integrations with Amazon Alexa or Google Assistant should be considered another business-crucial platform alongside web and mobile. Also, you must focus on voice marketing using mediums like the Alexa podcast; voice-based ad revenue is expected to reach $19 billion by 2022. (Techcrunch)
Voice for Business – Its Use Cases
If you have yet not ventured into the space of Voice, then most likely, the prime question of your concern is, "How are businesses using voice, and how is it helping them?"
Every business can leverage Voice, and how they use it depends on their specific business needs. Here are some industry-specific Voice use cases for you to understand how your counterparts are using this technology:
Voice controlled homes are new normal. OEMs integrating Alexa Voice Service to provide users ability to control their home appliances using voice commands and from anywhere.
Home automation OEMs integrate interfaces like Amazon Echo to provide users with the convenience of connecting with Alexa to control home appliances through voice commands.
Corporate offices use Alexa for Smart Office and power Voice CRM for handling tasks like initiating calls, emails, texts, scheduling meetings, setting up timers, booking meeting rooms, etc.
The Banking, Finance, and Insurance Industries offer the convenience of voice banking and other voice-enabled services such as client's access to research and analytics reports.
Coaching institutes are scoring through Voice-driven education initiatives made possible by voice assistant software and conversational artificial intelligence.
In the health and wellness industry, Voice User Interface is being used to handle booking appointments, follow-up calls to medical triage, and even diagnostic procedures.
Driving companion apps like Alexa Auto or Android Auto are made Voice compatible with providing the drivers with the convenience of finding routes, checking weathers or play songs just over voice commands.
Likewise, there are countless use cases for Voice, custom-developed for different business operations like helpdesks, online shops, route planning, language lessons, issue trackers, etc.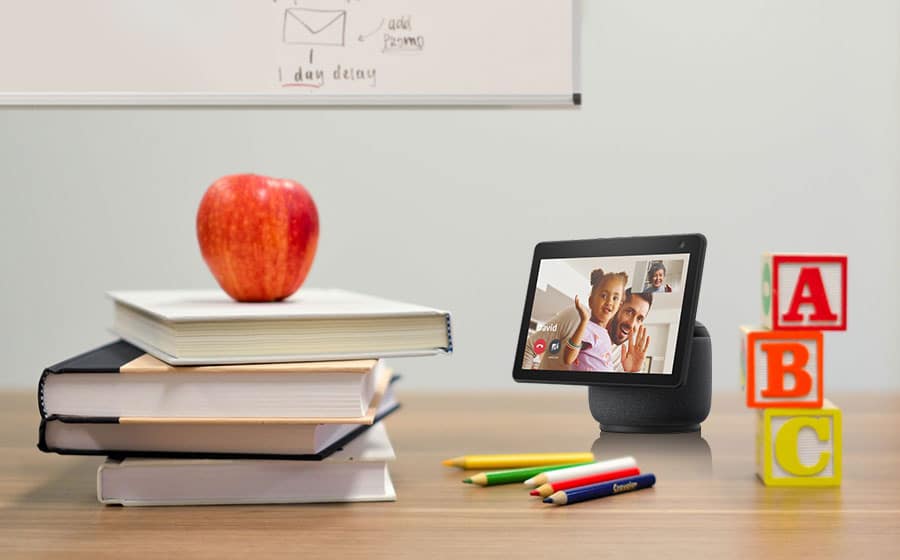 Voice assistants like Alexa have a huge impact on the education segment. On-demand access to world encyclopedias and study materials not only made it easier for students to learn at a fast pace but also instructors, coaching institutes find it a more personalized way to provide study content.
Already, Alexa has over 70 thousand skills, and Google Assistant can over 1 million actions to create voice experiences for consumers. To leverage the capacities of Alexa and Google Assistant, all you need is to implement the right set of voice development endeavours and create custom Alexa skills or Google Actions for your business.
You and your customers live in a connected digital world. People of this world believe that the Internet and applications make their life easy. They want every service to be made available to them through an app in some way or other.
And that's what businesses are doing; they channel their services, reach, marketing, and everything through applications powered by new-age technologies like AI, IoT, Voice, Mobile, AR/VR. As per a Forbes article, according to famous industrial experts, almost all application will integrate voice technology in the upcoming five years.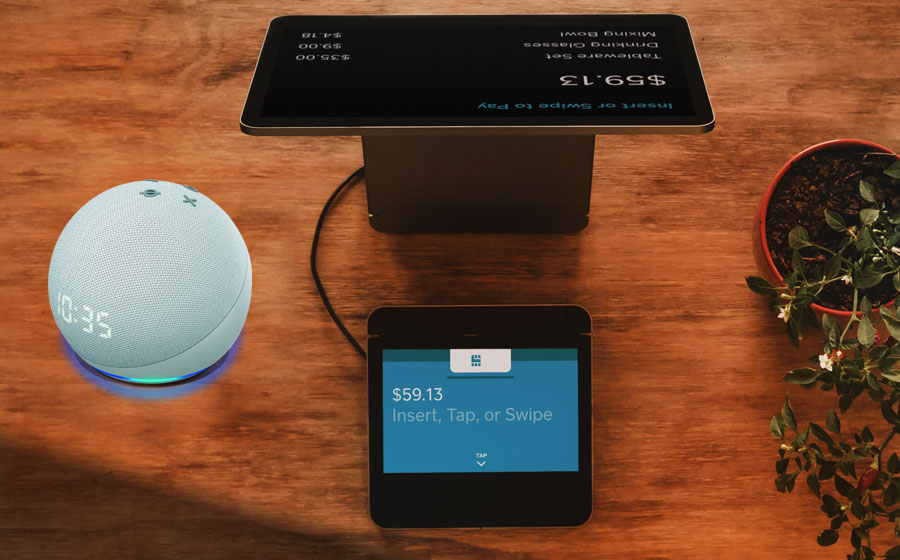 Netflix facilitates voice search for TV episodes and Movies, WhatsApp allows reading and sending of messages via Voice, Google Search promotes hand-free web searching, Uber facilitates voice-booking of the cab, almost all big names have already ventured with Voice. Now, it's time for even medium and smaller businesses to see the opportunities that this new technology can deliver and emerge with it.
Do you have questions about Alexa or Google Assistant? Do you want to discuss some particular use case or want to know how your business can be onboarded on the Alexa or Google platform? Connect with Us@ Boltd. We are a listed Alexa Skills Developer and can help create custom Alexa Skills for your business.
1. Why should you start using Voice?
With the constant technological progress, it is evident that Voice is the next step. It has already been integrated by some of the big names in the industry like Uber, Google & Netflix, allowing users to have a hands-free experience. It's time for you to join in as well.
2. What are more consumers shifting to Voice services?
Voice helps to provide comfort with technology, as anyone can easily use it, especially elders. Thus it automatically becomes a hands-free improved experience which is convenient to use on the go.
3. How can Voice be used at home?
Home automation systems have integrated interfaces like Amazon Echo which connects with Alexa and allows you to control all the home appliances through voice commands.
4. How is Voice used in offices?
Offices use Alexa and Voice CRM to handle all their mundane tasks of initiating calls, emails, scheduling different meetings, setting up a timer, making necessary bookings etc.
5. What other use case does Voice have?
Voice has found its use in every industry across every service. For example, Voice can be integrated with driving companion apps to provide the convenience of finding routes, checking the weather and even playing the music for the ride.
6. Can we build a custom use case for Voice?
Yes. Every business and service has its own set of needs and we at Boltd can help build the custom use case for Voice based on your requirements to provide the best experience to your customers.